Global Database Security Market Size to grow by 13.44 Billion in 2030.
CATEGORY
Information-Technology-Communication-IoT
Press Release
The Global Database Security Market is projected to grow from USD 6.3 billion in 2021 to USD 13.44 billion by 2030 at a CAGR of 12.6% during the forecast period.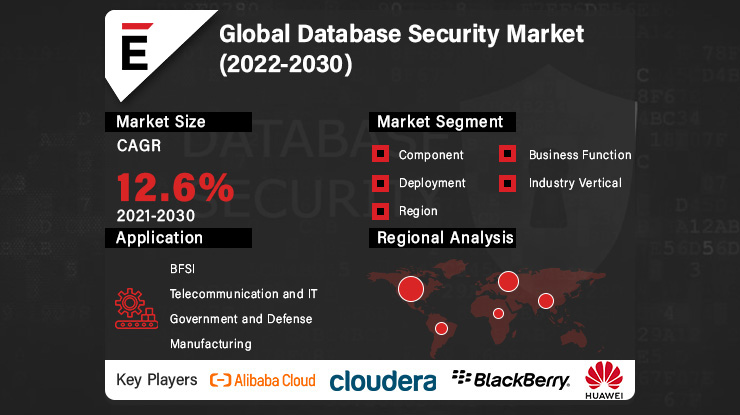 Request Free Sample To Learn More About This Report
Database security is a set of procedures that assures that an organization's data is kept private and secure. During the forecast period, a rise in digitization and acceptance of cloud-based database monitoring and data loss services in various industries to ensure the security of an enterprise's operational and confidential data is anticipated to boost the adoption of database security solutions in various industries.
The COVID-19 pandemic has had a significant influence on a variety of businesses around the world, resulting in a global economic slowdown in most countries. As a result, it has had a significant influence on governments and corporations, resulting in the temporary and permanent shutdown of businesses during the pandemic.
Due to the ongoing evolution of the security scene, IT industries budgetary expenditures are always on the rise. The cost of maintaining hardware solutions to have a proper security system in place adds up to the expenditure of adopting new technologies and updating software on a regular basis. As a result, the overall implementation of software and services for cloud-based security solutions has increased. Organizations can get security solutions from vendors like Cisco, IBM, Broadcom, and McAfee via a Software-as-a-Service (SaaS) approach. The significant cost savings, flexibility, and scalability benefits of cloud solutions over on-premises deployment have been a primary draw for businesses to migrate their preferences to the cloud environment. Furthermore, SMEs with limited budgets are predicted to considerably deploy SaaS-based security solutions, indicating that the market for cloud-based apps and services is still quite promising.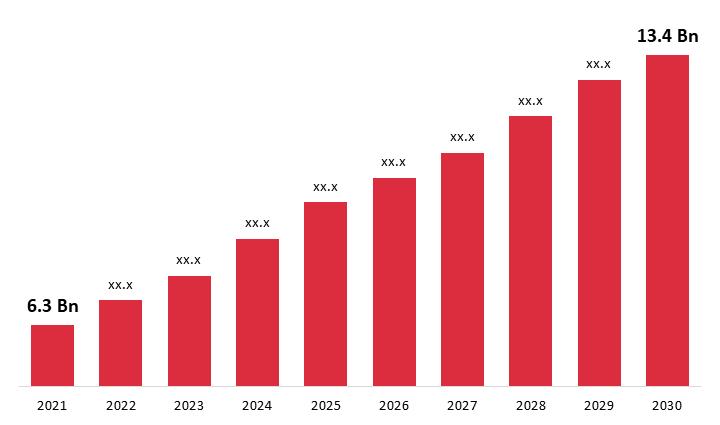 Request Free Sample To Learn More About This Report
Database security is an important aspect of IT infrastructure security due to it includes valuable and sensitive data. This information, which is gathered from a variety of sources such as customers and suppliers, must be kept private and adhere to the rules. During the purchase of a product, for example, businesses collect client information such as email address, phone number, postal address, credit card information, and so on. In recent years, the frequency of cyberattacks has increased substantially, as has their sophistication. Hackers are using technology like machine learning, AI and analytics to make cyberattacks more sophisticated. Such sophisticated cyberattacks frequently go unreported, and even when they are found, they take longer to remediate. From unauthorized access to databases to virus attacks resulting in data loss or corruption, the sophistication of these attacks has grown. The need for a comprehensive security solution to secure personal information and data is growing in response to the increased severity of cyber-attacks.
North America is the largest market for database security due to the large number of database security solution providers in the region, as well as increased investments in research and development by well-established IT corporations in the United States and Canada, North America is likely to fuel demand for database security in the region. Governments and commercial companies in countries like Canada, the United States, and others are expanding their investment in security solutions by establishing new programs and incorporating R&D into existing ones.
Request Free Sample To Learn More About This Report
EY INDUSTRY DEVELOPMENTS:
July 2020, Fortinet Inc. announced the debut of Fortinet Secure SD-WAN, a new security solution for Multi-Cloud. This solution adds to the company's existing Secure SD-WAN Cloud On-Ramp capabilities, allowing enterprises and users to connect to cloud solutions and apps in a secure manner.
In July 2021, Microsoft Corporation acquires CloudKnox Security. Microsoft will be able to provide cloud entitlement management and unified privileged access as a result of this acquisition.
Read More Details On This Report: https://extrapolate.com/Information-Technology-Communication-IoT/database-security-market/25786
Table Of Contents