Global Ophthalmic Ultrasound Imaging System Market Size to grow by USD 6.26 Bn in 2030.
CATEGORY
Healthcare-Medical-Devices-Biotechnology
Press Release
The Global Ophthalmic Ultrasound Imaging System Market is projected to grow from USD 3.7 billion in 2021 to USD 6.26 billion by 2030 at a CAGR of 7.7 % during the forecast period.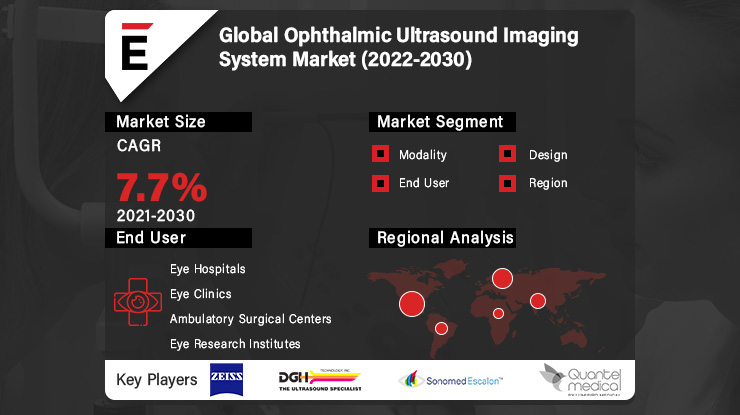 Request Free Sample To Learn More About This Report
The rise in new technological platforms that provide safe, reliable, and accurate images, as well as an increase in the prevalence of eye diseases and the prevalence of disorders such as cataract and glaucoma, which are affecting patients' daily lives, are the major factors driving the growth of the ophthalmic ultrasound systems market.
The COVID-19 epidemic had a significant impact on the market. To protect people from getting the virus, routine healthcare procedures were skipped. Furthermore, ophthalmology procedures were disproportionately impacted, resulting in a decrease in routine clinical care, which reduced product demand. As a result, income dropped significantly, and single ophthalmology practices closed temporarily or permanently.
The market is likely to rise as manufacturers focus on developing sophisticated imaging systems for utilize in intraocular measuring as well as anterior segment assessment. For instance, Quantel Medical released a next-generation small touch ophthalmic ultrasound system in October 2017 that is a 3-in-1 device that includes pachymeter, A scan, and B scan allowing for many tasks. Furthermore, factors such as rising disposable income in countries such as India and China and rising healthcare spending in China from 1.3 % in 2010 to large than 3.5 % in 2016, according to an OECD report.
Request Free Sample To Learn More About This Report
The number of cataract surgeries performed worldwide is steadily increasing. According to forecasts from the National Eye Institute, the number of persons suffering from cataracts in the United States would reach around 40 million by 2030. Cataract procedures, which are the only effective treatment for the condition, are only performed after ocular ultrasound imaging and are done after surgery to ensure that the lens is precisely positioned, demonstrating the value of ocular ultrasound technology. Various measures to expand cataract treatment access in developing economies' rural areas are expected to improve product demand during the predicted period.
North America is predicted to be dominant in the market during the forecast period due to high disposable incomes, an ageing population, more awareness, and the frequency of eye illnesses are all driving the expansion of the market analyzed in North America, particularly in the United States. According to the US Centers for Disease Control and Prevention, there were approximately 40.9 million adult contact lens wearers in the United States in 2015, accounting for 16.7% of the adult population. In 2014, the National Eye Institute projected that over 2.9 million Americans were diagnosed with poor vision. The population is likely to grow even further, reaching roughly 5 million by 2030. Due to the region's large geriatric population (25 million), Europe would be another potential ophthalmic ultrasound imaging equipment market. In the near future, regions such as Asia Pacific, which have the highest rates of eye problems and glaucoma, could be an attractive market.
Request Free Sample To Learn More About This Report
KEY INDUSTRY DEVELOPMENTS:
In November 2015, the TONOREF III Auto Ref /Kerato/Tono/Pachymeter was introduced by NIDEK CO., LTD, a global developer, producer, and distributor of ophthalmic, optometric, and lens edging equipment. The new device integrates the functions of several instruments into one, including an auto-refractometer, auto-keratometer, non-contact tonometer, and non-contact pachymeter.
In March 2019, Quantel Medical's latest A/B/S ultrasound technology, obtained FDA approval. The A/B/S/UBM ultrasound platform integrates technologies such as a novel 5 ring annular technology 20MHz B probe, integrated motion sensors, and a high-definition screen to provide high-quality, standardized ophthalmic ultrasound imaging.
Read More Details On This Report: https://extrapolate.com/Healthcare-Medical-Devices-Biotechnology/ophthalmic-ultrasound-imaging-system-market/25767
Table Of Contents