Global Dairy Alternatives Market Size to grow by US$ 56.2 billion by 2028
Press Release
The Dairy Alternatives Market was valued at USD 21.2 Bn in 2021. The market is projected to grow USD 56.2 Bn in 2028, at a CAGR of 15.2%. Dairy alternatives associated with health benefits have led to their widespread use in a variety of applications.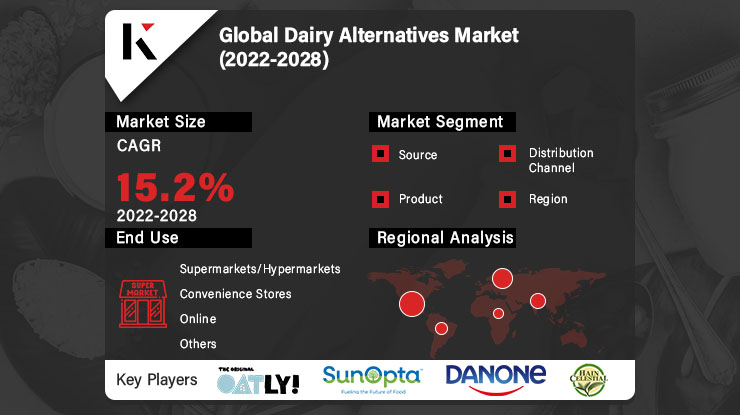 Request Free Sample To Learn More About This Report
Growing preference for the demand of vegan products has taken a place during Covid-19 epidemic to get healthier and rich in immunity. The paradigm shift is witnessing towards the consumers buying the dietary foods rather than conventional foods. The increasing demand for plant-based foods is driving the dairy alternatives market. Globalization and urbanization around the world is projected to break down this demographics constraint in the upcoming years owing to the rise in overall demand for dairy alternatives. Industrialized countries dominate the production and sale of processes dairy products whereas emerging countries have begun to manufacture and export organic foods and products. Furthermore, customers have changed their inclinations toward vegan and plant-based foods because to the health benefits, especially in the wake of the Covid-19 outbreak.
Growing demand for organic and healthful foods around the world, with the appeal of natural ingredients with long-lasting fragrant features, favor and garnishing benefits among humans. In addition, there is a growing need for a variety of vegan and convenience foods around the world. These are the elements that are projected to drive global dairy alternatives market growth over the forecast period. Furthermore, increased promotional operations by key dietary and vegan-based manufacturers throughout the world on social media, television, newspapers, and other platforms are likely to propel the worldwide market forward in the upcoming years.
Request Free Sample To Learn More About This Report
The soy segment is likely to dominate the market share in 2020 due to it contains phytoestrogen, a hormone that works similarly to estrogen in women. Drinking soy milk is popular among women as an alternative therapy for raising estrogen levels, which is projected to fuel the market. The milk segment held the largest market share of the global dairy alternatives market attributing to the due to favorable demand dynamics, growing interest among major corporations and private-label companies in developing plant-based milk, and great growth potential for vegan beverages. The supermarkets/hypermarkets segment is dominated the market share in 2020 owing to the easy availability and consumer preference as they believe to touch and check before buying. The supermarkets/hypermarkets are large sized retail stores and are easily accessible by the consumers.
A growing number of cases of lactose intolerance among Asians has spurred the need for dairy alternatives. The antioxidant characteristics of dairy alternatives such as almond milk, which may have a preventative effect against cancer and heart disease, have raised demand for dairy alternatives. The rising number of health-conscious customers, as well as consumer awareness of the health benefits of dairy alternatives are expected to drive demand growth during the projection period. Various improvements, such as more manufacturers offering gluten-free and lactose-free ranges, are also projected to drive market expansion during the forecast period.
Request Free Sample To Learn More About This Report
KEY INDUSTRY DEVELOPMENTS:
April 2021- SunOpta acquired Dream and WestSoy plant-based beverage brands from The Hain Celestial Group, Inc. The objective is to create strong organic and inorganic growth in our plant-based business for the company.
November 2020- SunOpta has invested in Oat processing facility in Minnesota to meet demand for plant milks to meet the rising demand for oat milk in the USA.
May 2020- Melt Organic launched Unsalted Butter Sticks made from plants.
January 2020- Nestlé's Nesquik has introduced a new beverage brand called GoodNes, which will be launching along with the release of Chocolate Oat Milk.
Read More Details On This Report: https://extrapolate.com/Food-Beverage/dairy-alternatives-market/21597
Table Of Contents