Global Medium Chain Triglycerides Market Size to grow by US$ 763 million in 2030
CATEGORY
Chemicals-and-Advanced-Materials
Press Release
The global Medium Chain Triglycerides (MCTs) Market is projected to grow from USD 763 million in 2021 to USD 1099 million by 2030 at a CAGR of 6.3% during the forecast period.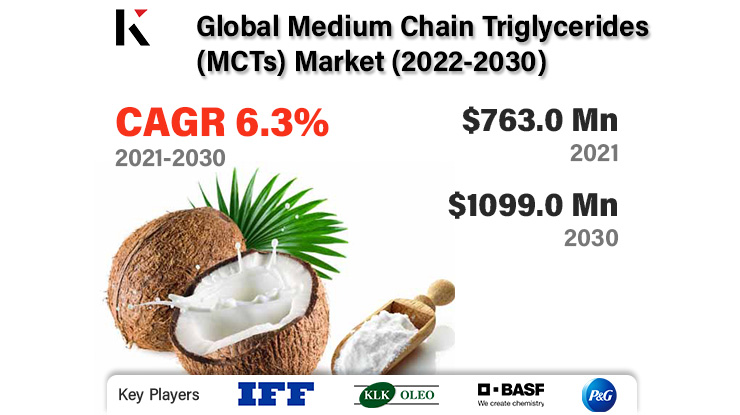 Request Free Sample To Learn More About This Report
Medium-chain triglycerides (MCTs) are a fat supplement that also boosts the body's immunity. As a result of the pandemic, more people are interested in working on the immune system, which has increased the market. Some microeconomic and macroeconomic factors in some important nations have had an impact on the worldwide medium-chain triglycerides market. This would be powerful enough to significantly boost the market in terms of value sales during the projection period. Prominent firms are well-established, financially solid organisations with a wide product portfolio, proprietary technology, strong global distribution networks, and offices in strategic areas that have been functioning in the industry for some years. Cargill (US), DuPont (US), and Kerry (Ireland) are some of the most well-known corporations, as they benefit from economies of scale to stay successful. The market for medium-chain triglycerides is also predicted to rise due to rising incidences of malnutrition in Asia Pacific, Latin America, and Africa.
Request Free Sample To Learn More About This Report
Consumers have grown more conscious of what they eat in the aftermath of the COVID-19 epidemic, and they are experimenting with and integrating luxury goods in their diets, even if they are more expensive. Similarly, even if the cost of a variety of products, such as natural ingredients and plant-based, is more than that of conventional ingredients, consumers are expected to pay more for high-quality food. Increased health awareness as a result of this condition in price-sensitive economies like India and South Africa would lead to a preference for premium products, prompting producers to employ medium-chain triglycerides in their premium food products.
Increased Use of Lauric Acid in the Pharmaceutical Industry Should Help Propel Market Growth
Lauric acid, also known as dodecanoic acid, is a saturated fatty acid found in the lipids of many plants, including coconut and palm kernel oil. At ambient temperature, it is solid, but it melts quickly in boiling water. It is usually white, powdery solid with a mild baby soap or oil odor because it belongs to the middle fatty acid chain. Therefore, lauric acid is commonly used in the pharmaceutical industry to treat viral diseases such as avian flu, swine flu, influenzas, the common cold, and genital warts. Lauric acid is largely used to prevent HIV infections from being passed down from mothers to their children. As a result, the pharmaceutical sector is projected to place a significant demand on this acid over the world.
Increasing the Use of MCTs as an Alternative to Regular Fats in Diets Boost Market Growth
Due to they quickly generate energy and improve human endurance, MCTs are commonly employed in nutritional diets, functional foods, infant formulas, pharmaceutical items, sports drinks, personal care products, and dietary supplements. Because the fatty acids in these triglycerides have shorter chain lengths, they are quickly absorbed and broken down in the human body, making them less likely to be stored as body fat. This also helps in the body's immediate energy creation. Extremely low-carb or ketogenic diets are effective for weight loss, and these triglycerides, which create ketones, can be added to such diets. Moreover, medium-chain triglycerides are growing popular among consumers who are health conscious and oriented toward healthy eating habits as a result of the aforementioned benefits, leading in their increased demand.
North America is the largest market for medium chain triglycerides due to the increased popularity of nutritional supplements and beverages and functional foods are driving up product demand in this region. Many globally recognized beverage makers call the region home, led by the United States.
Request Free Sample To Learn More About This Report
Asia Pacific is one of the world's fastest-growing regions for MCTs. The demand for medium-chain triglycerides such as capric, caprylic, and lauric triglycerides is increasing in the region due to their increasing use in personal care, cosmetics, and food and drinks. The top three consumers of MCTs are India, China, and Japan. The demand for nutritional food and products in the region is expanding as a result of busy lifestyles and rising disposable incomes. Furthermore, the rising use of personal care and cosmetics goods for women, such as gels, lotions, creams, and cosmetics, is propelling the market in the Asia Pacific region.
KEY INDUSTRY DEVELOPMENTS:
In August 2020, Dr Reddys Laboratories Ltd announced the launch of 'Celevida Maxx' a product designed to manage the nutritional requirements of cancer, critical care, and chronic obstructive pulmonary disease (COPD) patients in India.
In February 2021, Nexe Innovations, a plant-based materials company, released a micro-ground soluble coffee with organic medium chai triglycerides in a totally compostable coffee pod.
Read More Details On This Report: https://extrapolate.com/Chemicals-and-Advanced-Materials/medium-chain-triglycerides-market/25716
Table Of Contents