Smart Manufacturing Market Share, Size and COVID-19 impact analysis, by Component (Services and Solutions), by Deployment Type (On-premise and Cloud), by Size (Small, Medium, and Enterprise), and Global Analysis and Forecast, 2022-2028
Report Summary
KEY MARKET INSIGHTS
The Global Smart Manufacturing Market was valued at USD 87.4 billion in 2021. The market is projected to grow to USD 238.8 billion in 2028, at a CAGR of 15.40% from 2021 to 2028. The growth in CAGR is due to increased demand and growth, and is forecast to return to the pre-pandemic levels, once the COVID-19 pandemic is over.
The growth of the Smart Manufacturing Market was driven by the high utilization of internet technology, Cloud Computing, Internet of Things (IoT), Artificial Intelligence, and Big Data. In addition, the increases use of cloud computing technologies in industrial activities and their operations are boosting the growth and providing opportunities for smart manufacturing.
COVID-19 IMPACT
Manufacturers Invest Heavily in Smart Manufacturing to Discover New Automation Opportunities
The COVID-19 pandemic has increased the gap between the supply chain and manufacturing units. Therefore, the manufacturers are focusing on reconstructing their business models to reduce the impact of COVID-19. Moreover, manufacturers are also investing heavily in smart manufacturing and supply chains to discover new automation opportunities.
For instance, in 2020, the Indian Government invested USD 265 million to develop manufacturing, agriculture, healthcare, and other industries. This package will help several start-ups and MSMEs to complete their automation upgrades to expand their business and increase productivity.
LATEST TREND
Increasing Utilization of Industrial Internet of Things (IIoT) In Smart Manufacturing

Smart Manufacturing utilizes Industrial IoT and Big Data Analytics to manage supply chains and manage complicated processes. IIoT and Industry4.0 aim to boost production and minimize expenses by connecting the customers and providers. This is boosting the sales and providing opportunities for the global smart manufacturing industry.
DRIVING FACTORS
Growing Adoption of industry4.0 Technology in Smart Manufacturing Is Driving the Growth of the Market
The use of several industrial IoT services and software, such as SCADA, DCS, PLC, ERP, HMI, MES, and PLM, has been a crucial part of the industry. Moreover, with the advent of these technologies, industries have an opportunity to establish a strong position in the Smart Manufacturing Market.
RESTRAINING FACTOR
High Initial Cost of Advanced Manufacturing Solutions
High initial investments required for Smart Manufacturing Solutions are observed to be the main restraining factor, which impedes market growth. In addition, all sectors of the Smart Manufacturing Industry are shifting towards digitization, therefore, prices are affecting products as well as market growth.
SEGMENTATION
By Component
Based on components, the Smart Manufacturing Market is segmented into Services and Solutions. As per our market study, we have considered several manufacturing services and solutions offered by various market players such as Siemens, ABB Ltd., Robert Bosch, Honeywell International Inc., Mitsubishi Electric Corporation, Fanuc Corporation, and others operating all over the world.
REGIONAL INSIGHTS
Based on region the global Smart Manufacturing Market is categorized into North America, Europe, Asia-Pacific, Latin America, and Middle East and Africa.
The North American market holds the highest share of the Smart Manufacturing Market owing to the highest growth of the automotive industry in the region. North American aerospace and defense, health, automotive, and manufacturing which is expected to drive the Smart Manufacturing Market growth during the forecast period.
In Europe, the European Union (EU) announced co-operation on AI technology across the region. Moreover, the EU announced an increase in its investment in AI research by 2020which is projected to drive growth in this market during the forecast period.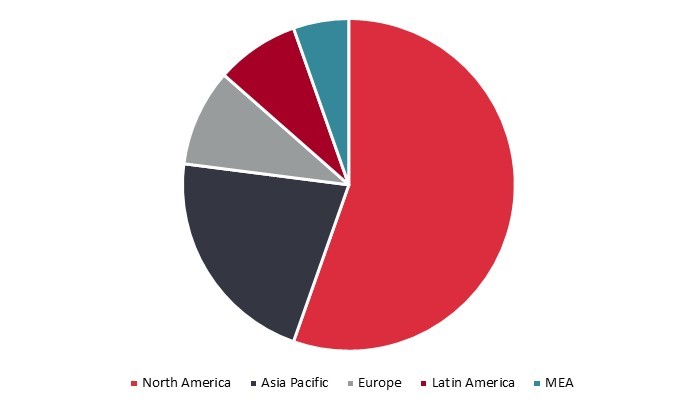 The Asia-Pacific is expected to grow at the highest compound annual growth rate (CAGR) owing to rapid industrialization and urbanization across China, India, and other countries. The Smart Manufacturing Market in this region is expected to show an impressive growth trajectory due to the growing investments and spending on Smart Manufacturing solutions by manufacturers.
LIST OF KEY COMPANIES PROFILED
ABB Ltd. (Zürich, Switzerland)
Siemens AG (Munich, Germany)
General Electric (Massachusetts, U.S.)
Mitsubishi Electric Corporation (Tokyo, Japan)
Robert Bosch GmBH (Gerlingen, Germany)
Rockwell Automation Inc. (Wisconsin, U.S.)
Schneider Electric (Rueil-Malmaison, France)
Honeywell International Inc. (North Carolina, U.S.)
Emerson Electric Co. (Missouri, U.S.)
Fanuc Corporation (Yamanashi, Japan)
Yokogawa Electric Corporation (Tokyo, Japan)
Telefonaktiebolaget LM Ericsson (Stockholm, Sweden)
March 2021 – General Electric launched Connectix software which is designed for Smart Manufacturing Market applications.
February 2020 – Nexans S.A and Schneider Electric SA., partnered together on a digital transformation system.
SEGMENTATION
By Component
By Deployment
By Size
By Region
North America- U.S., Mexico, Canada
Europe- UK, France, Germany, Italy, Spain, Rest of Europe
Asia-Pacific- China, Japan, India, South Korea, Rest of Asia Pacific
South America- Brazil, Argentina, Colombia, Rest of South America
The Middle East and Africa- GCC, South Africa, Rest of Middle East & Africa
FAQ
ARE YOU SEEKING COMPREHENSIVE INSIGHT ON VARIOUS MARKETS?
CONTACT OUR EXPERTS TODAY
Speak to an Expert
May-2022
140
Global
Smart-Utilities
Related Research